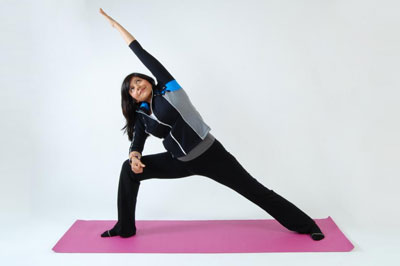 I have been practicing yoga and meditation for over forty years. My passionate journey of yoga started at the age of 13 when I saw a Himalayan Yogi practicing yoga under a tree on the bank of the River Ganges in the yoga capital of Rishikesh, India. I was completely drawn to his practice and here started my journey of yoga. For me yoga has become my everlasting ritual. Now it is the dance of my body and the rhythm of my breath.
I have visited Himalaya more than 20 times in my quest to develop my love of yoga, and have led Ashram life many times. I am completely dedicated to deepening my knowledge of this ancient art and science. Many of my students also follow me to Rishikesh, Himalayas to experience deep inner peace and spirituality.
Mindfulness and quality of awareness created by yoga and meditation has blessed me with enthusiasm and appreciation of life no matter what, a true bliss.
Having experienced the transformational power of yoga, I am committed to sharing the benefits of this ancient art with passion and enthusiasm while consistently looking for ways to improve myself as a practitioner and teacher. I strongly believe that the regular practice of yoga and meditation improves health and can increase self-awareness, thus deepening knowledge of our true nature for a more balanced and positive outlook on life.
I trained in India and also by British Wheel of Yoga (BWY Dip), London. I have been practicing with many Himalayan Yogis and renowned teachers, mainly with tutors inspired by the teachings of Krishnamacharya and his son TKV Desikachar, Iyengar style, Kundalini, Shivananda and Bihar School of Yoga in particular.
I have been teaching yoga internationally for over 20 years and have developed a unique and personal teaching style, keeping classes diverse, focused and fun.
Namaste!
People's experience:
Sunday morning yoga with Mala – I love it. Gives me permission to slow down. Allows me to challenge mind and body. Offers me an hour of feeling connected. Teaches me about our amazing bodies. Energises me for the week ahead. And delicious ginger tea at the end! Thank you Mala for sharing your gift with us – Helena Jackson

I would like to express my thanks and admiration to Mala Gupta. She is truly inspirational, motivational and a superb teacher. Her Yoga classes are always fun and the variety keeps you wanting more every week. Her enthusiasm and interest in EVERYONE who attends her classes is amazing. I have a lot more co-ordination than I started with. I fully intend to continue as it has become an integral part of my life – Panchali Sinharoy